The Tribes of Andaman & Nicobar Islands
The inhabitants of Andaman Islands originated 60,000 years ago in Asia. During a time, when the earth was covered in ice, the woolly mammoth roamed free and modern humans shared land with Neanderthals and Densivons. These modern humans started expanding south reaching India and the Andaman Islands probably on foot when it was still connected to Myanmar . As the sea level rose, they were isolated and lived in complete isolation until the European colonist arrived in the 18th century.
The Andaman Group of Islands had 5 negrito tribes namely the Great Andamanese; Onge; Jangil; Sentinelese and Jarawa. The negrito tribes had short stature, dark skin and scant body hair in common while the Nicobar group of Islands has 2 mongoloid tribes, Nicobarese and Shompen
The oldest inhabitants of the Andaman, the Great Andamanese comprised of 10 distinct tribes namely aka-cari; aka-bo; aka-kora; aka-jeru; aka-kede; oko juwai; aka-kol; a-pucikwar; aka-bale and aka-bea. 
They once occupied all of Great Andaman and spoke different dialects of the same language. Their population was estimated to be ~6000 in 1858 but, population declined since then owning to disease (syphilis, influenza and measles) the colonist and prisoners brought with themselves. 
They are now extinct in their pure form; only 43 admixed individuals mostly of aka-jeru tribe live today.  Having lost their traditional hunter-gather roots long ago, they now survive on free rations and clothes provided by the government in their camp at Strait Island and bit of fishing and horticulture.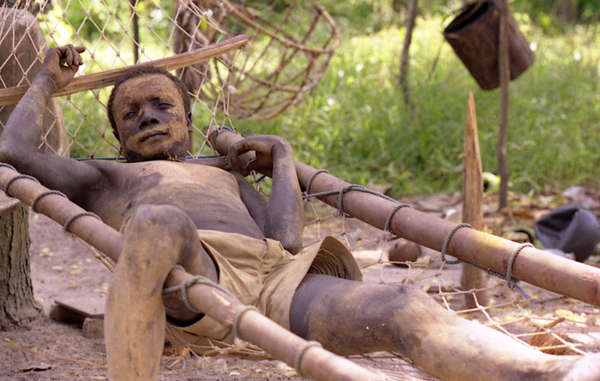 The natives of Little Andaman referred themselves as Onge (men) and are a different race which deferred from the Great Andamanese in both physical and cultural aspect. 
It's possible that the Onge found themselves stranded at Little Andaman island where the evolved in isolation and known to be hostile towards outsiders. Until 1940, the Onge were the sole inhabitants of the island, but presently share their land with settlers of India, East Pakistan & the Nicobar Island. 
They are now limited to 2 settlement camps in Dugong Creek & South Bay (A tiny fraction of their original territory) where nearly 91 individuals live.
Jangil also known as the Rutland Jarawa resided in the interiors parts of Rutland Island. They were the last tribe to be found by the European colonists with first documented record in the mid-19th century. Direct contact with this tribe was rare and a 1907 expedition only found one camp which was deserted before it was found. It was estimated that the tribe had over 300 individuals but was declared extinct around 1920s after numerous survey team failed to discover any sign of them in the entire island.
The aborigines that inhabit the Northern Sentinel Island (47 sq.kms) are called the Sentinelese. The Sentinelese are considered as an off-shoot of the Onge-Jarawa tribe which have acquired a distinct identity owing to their habitation in an isolated island having lost contact with the main tribe. 
Essentially hunter-gatherers subsisting through hunting, fishing, and collecting wild plants. Very little is known about them and their language. They are quite possibly world's only Paleolithic people remaining today without interaction with outside world. 
Though there have been expeditions to befriend them in the past. Many failed and few successfully met them. But, all these expedition ended in 1997 when the government decided to let the tribe live undisturbed. They are known to hit the news headlines from time to time. In 2006, two fishermen were killed who were fishing illegally near the island and recently in 2018, when an over optimistic American missionary landed on the island to preach Christianity
They were the descendants of Onge tribe sharing a similar language and appearance. They lived in the interiors of South Andaman and were constantly at war with the Aka-Bea tribe of Great Andamanese. As the Great Andamanese population dwindled and colonization increased, the Jarawa migrated to the interiors of South and Middle Andaman. 
They were hostile as recently as early 2000s and still live in their traditional hunter-gather lifestyle in the jungles designated as Jarawa Tribal Reserves. Their population is estimated to be <400 individuals. 
Their lifestyle had come under serious threat in recent years by the Andaman Truck Road that cuts across their territories. The Jarawa find themselves addicted to Tobacco, the jarawa women are being sexually abused and with increase tourism in the islands, thousands of  tourists travel through their territory to get a glimpse of them and take photographs.
Not much is known about when the mongoloid tribes arrived in the Islands. But it is believed that they arrive from Malay-Burma peninsula.
The Nicobarese possibly share the same ancestors as the tribes of North-east India. Unlike other tribes, the nicobars were a friendly port of call for all European ships passing the region. 
But, the Nicobarese were also notorious for looting vessels, slaughtering crews and abducting foreign women. when the British ship HMS Wasp and HMS Sattelite arrived to make inquiries. The party inspected the abandoned huts and found plenty of material looted from ships — chests, sofas, cushions, gear and fittings, toolboxes, nautical instruments and arms.
In 1869,Nicobar became an adjunct of the Andamans for administration and the establishment of a penal settlement. Nicobarese gradually became friendly, learned new techniques from the visitors shifted more towards horticulture based lifestyle. They also left their ancient religious beliefs to follow Christianity and Islam.  They continue to do well do even today and their population is blooming with >20,000 individuals and many are well educated.a
The Shompen like Nicobarese tribe belong to mongoloid racial stock but they differ from the coastal Nicobarese both racially and linguistically. 
Shompen (Shampan in nicobarese) live in the interiors of Great Nicobar Island. They are a nomadic tribe that is primarily hunter gatherers but also practice a bit of horticulture. They largely demand on pandanus fruit and wild pigs. They are friendly but very cautious while coming in contact with the outsiders. 
They continue to live in elusiveness and remoteness. Their population is estimated to be close to 100.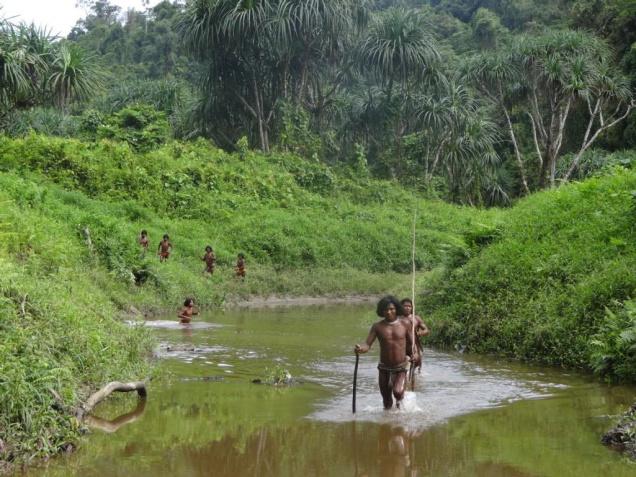 email us for birdwatching in Andaman Islands